---
---
Chardonnay
Pinotage-Merlot Ovation
Official Site:
http://www.louisvale.com/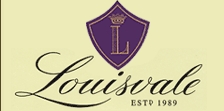 From its position on the gentle slopes of the Devon Valley, Louisvale enjoys one of the most spectacular views of this idyllic area.
Louisvale's reputation for quality is built on its Chardonnay. No fewer than 11 successive vintages have been selected for the annual Nederburg Auction - an unsurpassed record for Chardonnay and proof of their wine's superior status. Says Louisvale Cellar Master Simon Smith: "We are winemakers and not carpenters and our Chardonnays reflect terroir characteristics that are well supported by effective wood management".
The dynamic management team of the property, spearheaded by Chief Executive Anzill Adams, intends to concentrate mainly on three different Chardonnays - Louisvale Unwooded (maiden vintage), Louisvale Chavant (now introduced as "Lightly Oaked") and the already well established Louisvale Reserve Chardonnay range - to reposition Louisvale as a Chardonnay specialist producer. The only red wine will be the Louisvale Dominique - a top class Bordeaux style blend made of Cabernet Sauvignon, Merlot and Cabernet Franc.