---

Stellenbosch
---
Cabernet Sauvignon
Cabernet Sauvignon-Merlot
Official Site:
http://www.laibach.co.za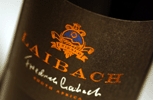 O U R S T O R Y
At Laibach Vineyards we are committed to producing wines of outstanding quality, that best reflect the unique terroir and the microclimate of the Simonsberg ward near Stellenbosch, one of South Africa's prime wine-growing areas for noble cultivars. Therefore we use a blend of tradition and innovation, adhering to a philosophy of continuous improvement. The history of our wine farm can be traced back until the year 1818. Originally named "Good Success" and owned by Dutchman Daniel Johannes van Ryneveld from Amsterdam, this vast farm extended to most of the catchment area in the valley enclosed by the Simonsberg, Kanonkop and Klapmutsberg. Later on it was divided in three farms: Warwick, De Goede Suces and the remainder of the farm Good Success, which has become Laibach in 1994, when entrepreneur Friedrich Laibach realized his 30-year dream of owning a vineyard.
Today the deep red soils have been replanted with virus-free new clones and a new winery has been built. The picturesque Laibach vineyards are flanked by the renowned vineyards of Kanonkop, Warwick and Lievland.
Ultimately, our wine quality is forever linked to the land where our grapes are grown. Site selection is essential in the making of fine wines, because flavour starts in the vineyards. The Simonsberg terroir with its lean deep red soils (Glovelly, Glenrosa) and cooling maritime winds from nearby False Bay is ideal for red wines of body and complexity.
The unique meso-climate produces grapes of concentrated fruit and excellent structure. The various heights of our North-East facing vineyards ensure ripening at different times, allowing each vineyard block to be hand-harvested at optimum ripeness. Around the Simonsberg vineyards have been cultivated and wine made for over three centuries. The premium quality of the Simonsberg wines is proved by an array of awards.
At harvest, we look for fully matured grapes. We then handle them with extreme care, gently moving them into the winery, where the whites are destemmed and pressed. Fermentation takes place in stainless steel tanks.
The red grapes are also pampered. After careful selection the red grapes are fermented the traditional way in open fermenters with regular manual punch downs and pumpovers for 10-12 days. After an extended maceration before pressing and a setting the red wines are gently fed via gravity into our underground barrel maturation cellar, to be aged for 12-18 months in small oak barrels, where they undergo malolactic fermentation.
We try to make wine in the most traditional and natural way while using the most advanced preserving technologies. We try to maximize soft handling and to make the best of what mother nature gives us on this unique viticultural terroir - wines that reflect both the identity of the different grape varieties and the terroir.